An all-round wetsuit that delivers many of the key technical benefits of the elite tier of the 2XU range. The inclusion of the rollbar, floating zip, SCS coating and 39 cell buoyancy paneling make the P:1 Propel a top-value wetsuit that will deliver the power needed to surpass the competition.


P:1 PROPEL FEATURES
SCS COATING (SUPER COMPOSITE SKIN)
39 CELL FRONT BUOYANCY PANEL
FLOATING ZIP PANEL
520% STRETCH (INTERNAL)
ROLLBAR
2 YEAR WARRANTY
BENEFITS
SCS COATING (HYDRODYNAMIC SILICONE COATING)
To reduce resistance when taking the suit on and off and to alleviate water resistance
39 CELL FRONT BUOYANCY PANEL
For maximum buoyancy with a 5mm neoprene thickness
EMBOSSED CONCAVE WATER ENTRAPMENT ZONE
For extreme ultra enhanced distance per stroke
520% STRETCH (INTERNAL)
Enhanced lateral flexibility
FLOATING ZIP PANEL
Increased movement for better distance per stroke
ROLLBAR
Increased core buoyancy and body position
2 YEAR WARRANTY
Quality you can trust on race day
39 CELL - The most buoyant neoprene available with a thickness varying from 1mm to 5mm (5mm maximum permitted).
SCS COATING (SUPER COMPOSITE SKIN) - Applied as a layer over the surface of the neoprene, creating a very unique material. The micelle structure on the rubber surface repels water when in contact with air and reduces the surface resistance when in contact with water. Low resistance allows for faster speed through the water. As a result, SCS provides comfort, extra freedom of movement, keeps the body warmer and decreases body fatigue while ensuring durability and abrasion resistance.
FABRIC - 100% Sponge rubber, Nylon laminated
NEOPRENE THICKNESS - Front chest (upper) - 5mm
Front chest (lower) - 3mm
Upper back - 3mm
Lower back - 5mm
Upper arm - 1.5mm
Lower arm - 1.5mm
Lower front leg - 3mm
Upper back leg - 3mm
Lower back leg - 5mm
Related Products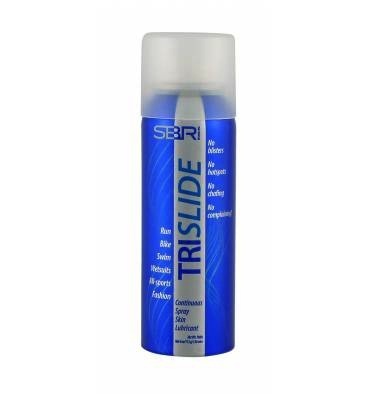 SBR Trislide Skin Lubricant