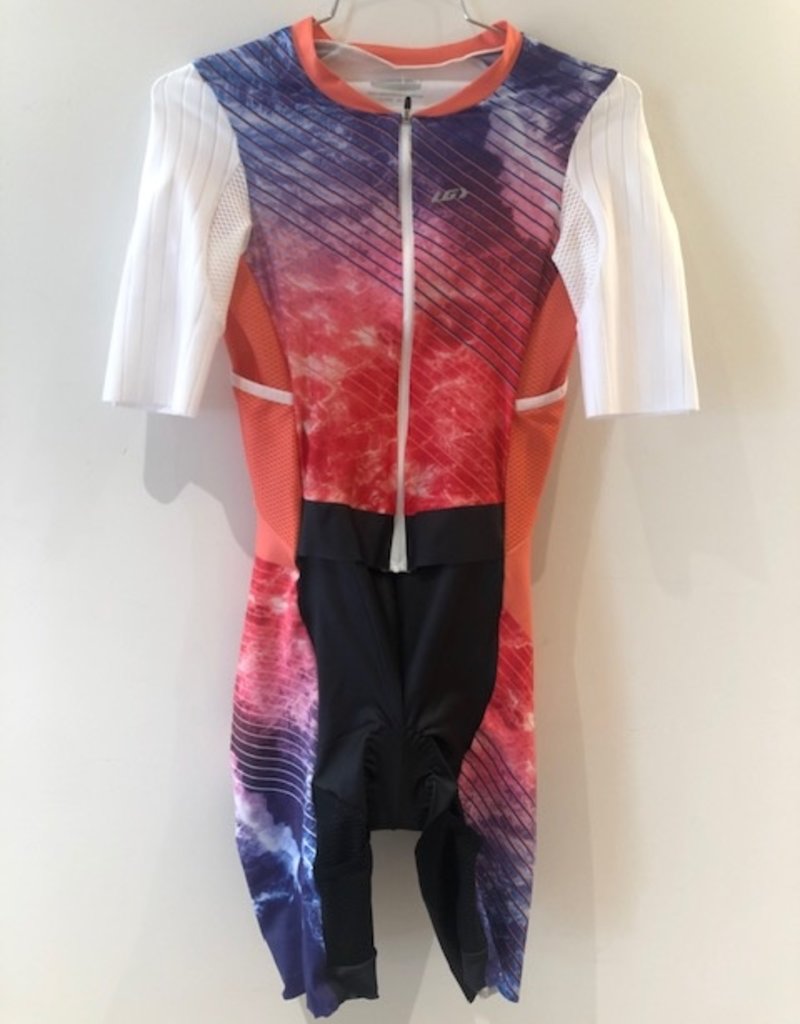 Louis Garneau Women's Aero Tri Suit
No compromise: this is the mantra that lead the Garneau team in developping the Women's Aero Tri Suit. It features the latest developments in aerodynamics and race ergonomics to let every triathlete get the most out of every second.
Research in the wind tunnel has proven the Speed Tech fabric to be the fastest out of more than 180 fabrics. It is now featured on the Women's Aero Tri Suit's shoulders and back for minimum air drag on wind-sensitive areas. Since body temperature is as important as the swim, bike or run during a triathlon, ice pockets are located near the femoral and common iliac arteries to help keep blood vessels cool when you fill them with ice from the feed zone. Another triathlon essential is nutrition: with new angled back pockets, you get plenty of storage for bars and gels while preventing any loss during the race thanks to a tight elastic opening. The new Tri Air 2 chamois offers more padding in the front area for maximum comfort when riding in aero position.
Technical Details
Fit Tech: Slim
SuitsOnePieceDress Fabric : CB Mondo: Four-way stretch micro-filament known for its softness and comfort - CB Gladiator: Highly compressive fabric, maximizes muscular performance and recovery. Chlorine-resistant and maintains great compression both in water and on the road - CB SpeedTech: One of the most aerodynamic fabrics developed. Made of a dimpled mesh construction, this fabric is light, breathable and chlorine-resistant - Speed Tech Striped : Linear channel construction that allows a better laminar airflow, which reduces the cyclist's drag factor and improves aerodynamics - Highlander Mesh : Designed for maximum moisture vapor transfer (MVT), which helps prevent overheating from exercise by venting moisutre vapor build-up
SuitsOnePieceDress Fabric Technology: Chlorine-resistant
Garment Feature OnePieceDress : Hydrodynamic
Garment Feature OnePieceDress 2: Aerodynamic and pre-shaped shoulders
SuitsOnePieceDress Arm Finish Biceps: Laser-style finish at sleeves
SuitsOnePieceDress Leg Finish Tighs: Lazer-finished at thighs
SuitsOnePieceDress Pockets : 2 ice pockets at sides and 2 at inner legs - 2 angled rear pockets
SuitsOnePieceDress Visibility Features: Reflective trim
SuitsOnePieceDress Zipper: Full-length zip
Inseam : 9.5" / 24 cm
Related Products